No member of the public has seen the stamp since it was last exhibited in 1986 at the Ameripex International Stamp Show in Chicago, Illinois.
The stamp has set a new world record in sales every time (3 times) it has been auctioned.
It will probably beat the world record of sales that currently belongs to the Treskilling Yellow, which was sold for $2.3 million in 1996.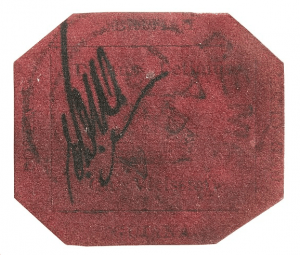 The stamp was once declared a fake, but this was later disproved.
King George V was one of the bidders at the 1922 auction, but he lost out to Arthur Hind. As a result, the 1856 British Guiana Magenta is now the only significant British stamp missing from the collection of Queen Elizabeth II.
Urban legend has it that Arthur Hind purchased a second 1¢ Magenta when it was made available to him, only to subsequently destroy it in order to increase the value of his own remaining copy (I highly doubt this).
In 1999, another supposed 1¢ Magenta popped up out of nowhere and was found to be genuine. The Royal Philatelic Society of London later declared it to be a fake.
The last owner of the stamp, John E. DuPont, was convicted of 3rd degree murder and died in prison in 2010
A part of the proceeds from the stamp's sale will be donated to a charity