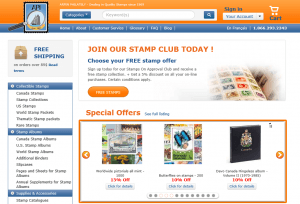 We've been working hard lately and we now have a fully operational new website interface. Apart from the new colors, the website uses basically the same easy to use navigation as before, but we've added lots of additional features to polish things even more.
Click here to vist Arpin Philately.
Members of our Stamps on Approval Club will get 5% off on every web order. Even on orders made with an approval payment.
Members will now be able to view, make their choice and pay their stamp approval online.
Under your account you can now see the complete history of your orders and approvals.
There is now a shipping estimator in your cart allowing you to see different options before checkout.
We're happy to announce that we now ship internationally to over 100 destinations.
New WantList feature that allow to add items that are available or in back order.
Extensive description of all Canadian stamps.
Search Canadian stamps by Scott numbers or by year.
New Quick Look option to allow fast preview of items and to a list of related items.
And a few more features that we hope will offer you a more enjoyable experience on our website.