One of the biggest challenge in philately is to find the stamps to fill your album pages. Practically every albums (Lighthouse, Davo, Unity, etc.) list their stamps by year and they can't use the Scott classification, because the copyright belongs to Scott. We do get a lot of request like: "I need all the stamps of the year 1996 to fill my Lighthouse album". So this can be quite a challenge to retrieve every stamps you need and then pick them one by one.
That's why we felt the need to create Year Sets. So now it can as easy as one click to retrieve all the stamps you need for a given year.
But Year Sets also have another advantage, it is that we offer stamps in their best form available. I'll give you an example of what I mean by that. In the year 1992 per example there were 4 stamps on World War II that were issued in the same pane. These are #1448-1451, so their best form available would be a se-tenant block of 4, which is #1451a.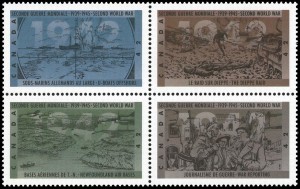 So every stamp that can be in se-tenant or pane or etc, will be. We also include all the souvenir sheets, so if a stamp was issued in pane and in souvenir sheet, you will get both. As I said it is really the ideal way to fill your album.
We have also split the commemorative and definitive sets to be more convenient with Scott and the Unitrade Catalogue. So in the regular Year Sets you will find all the commemorative stamps and in the Definitive Sets you will find the definitive stamps for the corresponding years (just like in the catalogue).
For now only the 1990's decade is avaible but a lot more years to come, especially if the sets are popular!
You can find the Year Sets on our website at the following address:
https://www.arpinphilately.com/products/stamps/canada_stamps/canada-year-sets/index.html