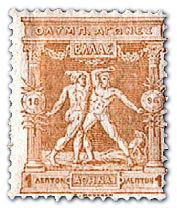 Of all the topical themes of philately, it would seem that none is more popular than the Olympics. Starting in 1896, with the beginning of the modern Olympic Games in Athens, Greece, Olympic stamps were issued to mark the event. Olympic philately has been so well received through the years that the International Olympic Committee even awards gold, silver, and bronze medals to the countries with the best stamp for a particular Olympics. In 2004, the gold «prix Olympia» was awarded to Portugal, the silver to the Ukraine, and the bronze to Australia.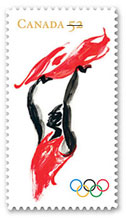 Perhaps one of the reasons why Olympic stamps are so popular is because each one represents a little bit of history. Each nation can display its pride in its athletes or culture. Some nations even choose to immortalize their gold medallists on individual stamps.
As previously mentioned, commemorative Olympic stamps go back to the first modern Olympiad in Athens. One might say that the practice owes its birth to the fact that the 1896 Games were badly in need of funds (the total cost of the Games was US$448,000), and one of the ingenious ways of raising money was to issue a set of commemorative stamps (the first commemoratives in Greek history) marking the event. The stamps raised a bit more than 10% of the total cost, and this money allowed Olympic organizers to go ahead with the building of the last four sites of the Games.
This was not the last time, however, that stamps would play a major role in raising funds for an Olympics. The 1976 Montreal games were already colossally over-budget during the planning years due to errors, strikes and suspected corruption. In an effort to raise desperately needed money, on September 20th 1973, Canada issued Olympic semi postal stamps for the first time in its history. Unfortunately, stamps would never be able to raise the $1.5 billion needed to pay for these Olympics-a debt finally paid off mid-November 2006!