Modern printing has had a huge impact on stamp production and philately. Experienced collectors and philatelists are now finding themselves having to learn new philatelic terms and definitions. For example, many new stamps are die-cut. What does that mean?
Simply put, die-cutting is a method of stamp separation designed for self-adhesive stamps. Older, gummed stamps are perforated so that you can separate them one from another (see article: FAQ-What are stamp perforations? ). Modern self-adhesive stamps are very rarely perforated, instead they are die-cut. In other words, a metal die cuts out the sides of the stamps.
Self-adhesive stamps are usually released in booklet or coil form and are attached to a backing paper; the metal die cuts through the stamp paper while leaving the backing paper intact. This enables you to peel individual stamps off the backing paper whenever you need them, leaving the unused stamps in your booklet or coil. The die can be designed to cut out any shape of stamp-the possibilities are endless.

Sometimes die-cut stamps are cut to simulate the look of traditional perforations; this is called a «serpentine» die-cut. Serpentine cuts are measured the way traditional perfs are and you can find the measurements in your stamp catalogue. Die-cut stamps can also have «straight» edges. Stamps can even be cut into fancy shapes. Some stamps have fancy cuts, straight and simulated perfs all in one stamp!!

Die-cut to shape fun facts:
-the first Canada stamps to be die-cut were the 1989 Quick-Stick booklet issue, Unitrade Catalogue #1191-2-3

-collectors differentiate varieties of serpentine die-cut stamps one from another by their upper corners. The upper left corner marks the stamp as either a «peak type» or «valley type».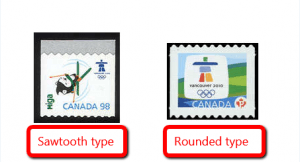 -serpentine die-cutting can either be the «saw-tooth» (pointy tip)  variety or «rounded» variety
-up until 2010, only 5 Canada self-adhesive stamp issues were fully perforated: Unitrade #2103a-#2116-#2283-#2317