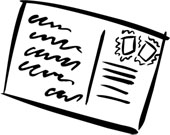 Lots of famous people have collected stamps. For example: Queen Elizabeth, President Roosevelt and John Lennon! Some of them started collecting stamps when they were very young and by the time they were adults they had a collection worth thousands, sometimes millions of dollars! But they had to start somewhere. Where did they get their stamps? Where can you get your stamps?
One of the easiest ways is free! All you have to do is ask people to save their envelopes for you. Politely ask people to be careful when opening their mail so that they don't tear the stamp. You can also ask people to save the postcards they get for you. If they want to keep their postcards, ask them if they mind just cutting around the stamp and giving that part to you. Collecting stamps from postcards can be lots of fun because then you get to see stamps from all over the world.
Do your parents or other members of your family work in an office or for a company that gets a lot of mail? Maybe they can ask their boss or their co-workers if they could keep all their envelopes for you too. Here at Arpin Philately we carefully remove every stamp from every piece of mail that we get and then we sell the ones in good condition as used stamps. Nothing is ever wasted!
Where else can you get stamps? Well, you can buy stamps in bulk or packets from different vendors like Arpin Philately, or you can trade with other stamp collectors. If your school or your town has a stamp club, you might meet other kids who collect stamps like you. Make sure you always ask your parents for permission before buying stamps, joining a club or meeting other people!
Have fun!!