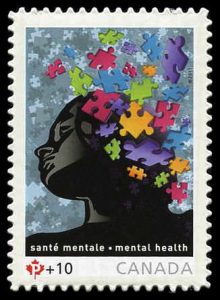 On September 6, 2011, Canada Post began issuing a new stamp in its Mental Health series. The design of the stamp was opened up to all Canadians and the favourite design out of the five finalists was voted on by the public. The winning stamp was the entry by Miriane Majeau of Terrebonne, QC, entitled 'The Puzzle'.

Majeau, whose own son suffers from an attention deficit disorder, remembers the doctor explaining mental illness to her by using the image of a puzzle and that imagery always stayed with her. In her own description of her design, she did not want to portray mental health issues negatively, which is why the puzzle pieces in her design are in vibrant, lively colours and the face of the person is turned towards the light.
For those millions of Canadians suffering from mental illness, understanding their illness and trying to cope with it can be like putting the pieces of a puzzle together. Majeau's understanding of that situation is reflected in her dignified design.
Canada Post will be donating $1 from the sale of every booklet of 10 stamps to the Canada Post Foundation for Mental Health. This organization has already raised almost $1 million dollars in the three years since its creation. Majeau herself donated her $500 cash prize to La Fondation les petits trésors de l'Hôpital Rivière-des-Prairies. This foundation concentrates its efforts on helping children and teenagers deal with mental health issues.