Revenue stamps, unlike postage stamps, are used to collect taxes or fees on various items and to show that these taxes have been paid. Revenue stamps have been used for years by federal, provincial and municipal governments as well as various other organizations. They have been used in virtually every country of the world and are still being used in some. 
While revenue stamps resemble postage stamps, they were not intended for use on mail and therefore did not receive a postal cancellation. However, revenue stamps can display cancellation markings, three types being; by manuscript signature of the person canceling the stamp (usually with date), by hand stamp identifying the canceling agent (also usually with date), or by punch.

These revenue stamps can be found in virtually every household on some old documents. These documents include old cheques, wills, passports, gas inspection certificates, sales contracts, mortgages, hunting licences, stock certificates, war tax documents, jewellery receipts, tobacco products, liquor, drugs, playing cards, shipping documents, money orders, legal papers… In fact, the list is almost endless. Digging through old family records and papers could end up being very valuable!



The use of revenue stamps goes back further than that of postage stamps. It is interesting to note that the first revenue stamps used in North America were introduced by the British in 1765 under the Stamp Act. The act required all legal documents, permits, commercial contracts, newspapers, wills, pamphlets, and playing cards in the American colonies to carry an excise tax. The tax met with great resistance and many preceptors were threatened with tarring and feathering. This unpopular measure added fuel to the growing movement that resulted in the American War of Independence.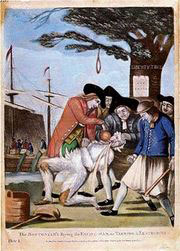 The 1774 tarring and feathering of British Commissioner of Customs John Malcolm 4 weeks after the Boston Tea Party. Note the noose hanging on the Liberty Tree, and the Stamp Act posted upside-down