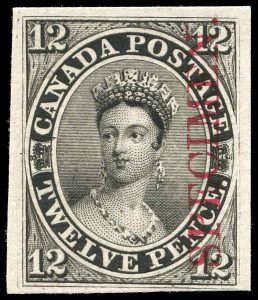 What is a SPECIMEN stamp and should I collect them? Before I answer that question, let's take a look at page 58 of the 2019 Unitrade specialized catalogue of Canadian stamps. There you will find all the listings for the 1897 Diamond Jubilee Issue. Canada Post issued this series of stamps to commemorate the 60th anniversary of Queen Victoria's rule. Pay attention to one of the footnotes at the bottom of the page that deals with the value of the Jubliee Issue SPECIMEN stamps.
DIAMOND JUBILEE SPECIMEN STAMPS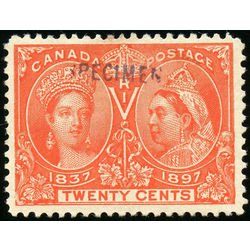 I quote: «….for the seven higher values in this issue (#59-#65), never hinged examples of SPECIMEN stamps are rare-add 150%. The low values (#50-#58) also exist with SPECIMEN overprints; value is $500 each.»
Check all the listings for Diamond Jubilee stamps. That means that in some cases, especially for the low value SPECIMEN stamps, there can be up to a 500% markup from the value of the regular stamp of the same issue! Undoubtedly, it could really be worth my while to collect SPECIMEN stamps.
WHAT IS A SPECIMEN STAMP?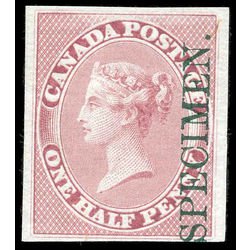 So what is a SPECIMEN stamp? Definition: it is a copy of a newly printed stamp issue that wasn't used for postal purposes. It was overprinted or perforated with the word «SPECIMEN». SPECIMEN stamps were used by countries who were part of the UPU (Universal Postal Union). The UPU, a United Nations agency established in 1874, still regulates and coordinates the postal practices and policies of its member nations today.
It was in 1879 that member nations of the UPU agreed that they would send their SPECIMEN stamps to each other. Postmasters used them to help in identifying international stamps. Archives of the stamps of a foreign country could be compiled using SPECIMEN stamps. Postmasters also used SPECIMEN stamps to identify and prevent the fraudulent use of foreign stamps in their country.
ARE SPECIMEN STAMPS VALUABLE?
Once they were overprinted, SPECIMEN stamps could not be used for regular mail service. Despite this, collectors have prized them from the very beginning. As with the Diamond Jubilee stamps mentioned above, SPECIMEN stamps can often be more valuable than the original postage stamp intended for regular use.
Many SPECIMEN stamps are also extremely rare-this obviously adds to their appeal and value. It is often impossible to know how many were originally printed and sent away to other nations.
HOW DO I CALCULATE THE VALUE OF A SPECIMEN STAMP?
So how do I calculate the value of a SPECIMEN stamp? Well, let's use a set of Diamond Jubilee issue SPECIMEN stamps as an example.
According to the Unitrade Catalogue, a set of the high value Diamond Jubilee SPECIMEN stamps (#59-#65) in MVF (mint very fine) condition are worth  – $5200; plus, add 200% for NH (never hinged). In other words, if I had MVFNH copies of all seven of these SPECIMEN stamps they would be worth:
$5200 + 200% ($5200 + $5200 = $10 400) = $15 600!!!!!
Not bad! Of course, now I have to find them!
SHOULD I COLLECT SPECIMEN STAMPS?
So, in answer to the question at the beginning of this article, «What is a SPECIMEN stamp and should I collect them?» I would have to say the answer is yes!!!
Check our the Arpin Philately boutique for SPECIMEN stamps in our Canada stamps section.
FINAL WORD ON SPECIMEN STAMPS

So, in conclusion, even though they are not regular postage stamps, many collectors go out of their way to acquire SPECIMEN stamps. They are often worth a lot of money, sometimes considerably more than their regular stamp cousins. Do you have a SPECIMEN stamp in your collection?
You should take a look!!