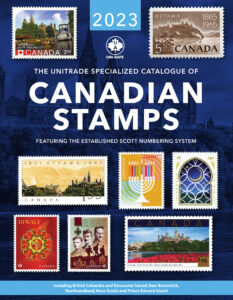 There are many useful and necessary tools for stamp collectors, whether they be new to the hobby or more experienced. Just think of stamp tongs, mounts, hinges, stamp pages and albums. In my humble opinion, there is another absolutely necessary accessory to your stamp collecting pastime-a stamp catalogue. And I'm NOT just saying that to sell catalogues!
Which catalogue should I get?
First of all, which catalogue you decide to get depends a lot on what exactly you collect. If you specialize in USA stamps, you may be interested in the Scott Pocket Catalogue. If you're a world collector, then the Scott World Volumes might interest you, although the cost is a bit prohibitive (a full printed set can run you over $1000!). Happily, you can also access the Scott Catalogue digitally through their website. It's a lot less expensive!
Since we live in Canada, for the purposes of this article, I will be concentrating on the merits of the Unitrade Specialized Catalogue of Canadian stamps. It's the only way to accurately understand your Canada stamps. It's economical too. Pre-order your 2023 edition Unitrade Catalogue in the Arpin Philately Boutique for only $64.95 while supplies last! ETA end of November 2022.
Highlights of the Unitrade Specialized Catalogue of Canadian Stamps
The most exciting aspect of this catalogue is that you get a full listing of EVERY SINGLE STAMP ever issued by Canada from 1851 to the present! That includes definitives, commemoratives, booklets, souvenir sheets, provinces, airmail, duck stamps, officials, labels… It's ALL THERE!
And there is an illustration for every single stamp. Sometimes several illustrations are provided for certain varieties. There are often close-ups on the detail which makes that stamp so particular. Another practical aspect of the Unitrade Catalogue is that it basically uses the same numbering system for Canada stamps as the Scott Catalogue.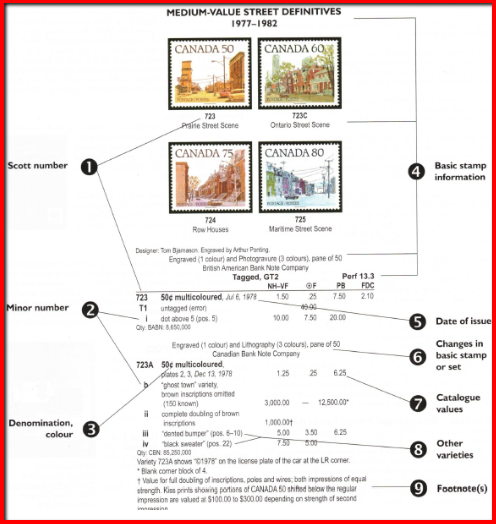 You also have full listings of different varieties, oddities, watermarks and errors … and the list goes on. So you really can't miss anything. Of course, one of the most useful pieces of information that a catalogue provides us with is the catalogue value of all the stamps. This can really help a collector to get an idea of what his stamp might be worth when it comes time to buy or sell.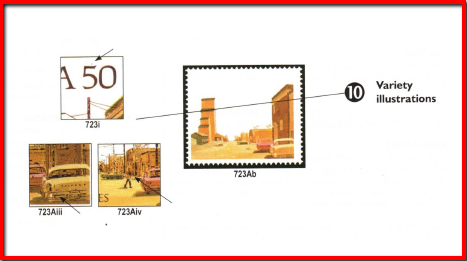 What else can a catalogue help me with?
So is a catalogue just a bunch of listings. Not quite!
They often provide a lot of detailed information about the peculiarities of stamp collecting as a hobby. Catalogues can teach you the meaning of many philatelic terms. If you are new to the hobby, this information is really priceless. It's almost like getting a mini-course in philately within the pages of your catalogue. The Unitrade Catalogue really stands out in this aspect.
The first pages of the Unitrade catalogue can really teach you a lot. They explain how to understand stamp condition grading and pricing factors. It also contains basic explanations for stamp perforations, stamp paper, tagging and selected philatelic terms. It's almost like an encyclopedia for stamp collecting.
If ever you feel you need more detailed explanations, you can also consult the glossary at Arpin Philately. You might also like to search our blog which contains numerous articles featuring detailed answers to the many questions that stamp collectors sometimes have. If ever you can't find what you're looking for, please drop us a line and we would be happy to incorporate your question in a future article!
Back to the catalogues now…
You'll NEVER regret purchasing a stamp catalogue!
At the offices of Arpin Philately, every single one of us has our own personal Unitrade Specialized Catalogue of Canadian Stamps on our desk. We consult them every single day. Most of the questions we field from our clients are easily answered using this catalogue. Properly indexing and pricing our merchandise would be impossible without a stamp catalogue. So we just can't say enough about its usefulness. In short, if you decide to invest in a stamp catalogue, you will never regret it. Get one while supplies last!