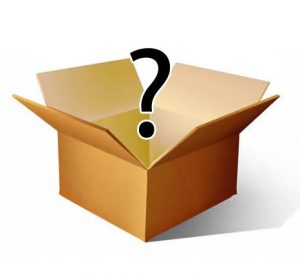 Never know what to get the stamp collector in your family! Well, what if you make the gift of a Canada Stamps Surprise Lot?! After all, every stamp collector enjoys a bit of mystery and that's exactly what you get with a Surprise Lot. It's also a great way to introduce budding new collectors to the hobby.
WHAT IS A STAMPS SURPRISE LOT?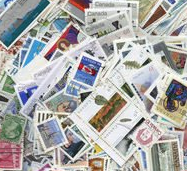 We just don't have the time to go through everything that comes into the store! This lot will include remnants of collections; first day covers; accumulations; packets of stamps; higher-priced stamps with defects. All CANADIAN STAMPS. Basically, you can play detective identifying and organizing all the stamps contained in your package. Plus, every lot is different. Even if you order more than one Canada Surprise Lot, you'll never get the exact same thing twice.
WILL I FIND SOMETHING VALUABLE?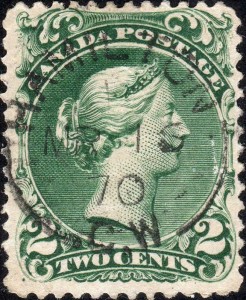 Hopefully! Of course, we can't promise a rarity in every Canadian Surprise Lot. But you'll definitely find enough different varieties and conditions to make it worth your while. Maybe something will have slipped past the eagle eye of our in-house expert! It's worth a shot.
That's exactly what happened with the discovery of the last 2¢ Large Queen on Laid Paper (Unitrade #32).
On July 16, 2013, the Vincent Graves Greene Foundation announced that it had issued a certificate of authenticity for a newly discovered specimen. Previously, it was thought that only two examples of this rare Canadian stamp existed.
According to the VGG Foundation: "The submitted stamp was purchased by the collector early in 2013. It came from a sales circuit book (a book containing stamps for sale which is passed among prospective buyers in a geographical circuit). 'The cost was very modest' (thought to be $5)… He was checking Large Queens for watermarks using backlighting… The submitter believes he was not the first person to see the particular circuit book." It later sold for over $200,000!
You never know…
STAMPS SURPRISE LOTS ARE GOOD TRAINING FOR NEW COLLECTORS
While finding a classic rarity would be nice, this isn't the main reason that stamp collectors buy a Canada Surprise Lot. It's also a great way to get people who are new to stamp collecting interested in the hobby. Learning to organize and identify all the stamps in a Surprise Lot is really good practice for young and inexperienced collectors. Even advanced collectors can get a lot of fun out of it.
Make the gift of a Surprise Lot and pair it with a Unitrade catalogue for Canadian stamps and off you go!!!
GIFT OF A CANADA SURPRISE LOT A GOOD WAY TO FILL ALBUM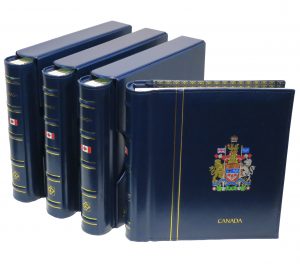 Since a Surprise Lot always includes some higher-priced stamps with defects, it's also a great way to fill those pesky holes in your stamp album. Not many of us can afford to buy a complete set of MVFNH Diamond Jubilee stamps (in my dreams!). Getting ahold of the same stamps with a defect is definitely a cheaper alternative and at least you have a complete collection to show off!
In conclusion, Canada Surprise Lots are great for investigation. Go ahead and try one, and you will surely reorder another.
Happy Hunting!
P. S. Arpin Philately also sells Surprise Lots for the United States and the World