Now is your chance to own a piece of history! In our Rare Canadian Stamps section, Arpin Philately now has in inventory the first postage stamp ever issued by Canada. It's affectionately known as the "three-penny beaver". It was issued on the 23rd of April, 1851. So that makes it 171 years old! These stamps don't come around every day, so don't take too long to decide.
WHY SHOULD YOU OWN THE THREE-PENNY BEAVER?
The most obvious reason is that it would be one of the jewels of your collection. Even if it isn't the most valuable stamp Canada ever issued, it has the distinction of being Canada's first-ever!
Plus, it still has a Unitrade catalogue value of $60 000 CAD for a stamp in mint condition. A stamp in Used Very Fine condition has a catalogue value of $1600 CAD. It is definitely a stamp that will continue appreciating in value. Consider this: according to the Scott Catalogue of 2008, a mint three-penny beaver had a value of $20 000 USD ($25 697 CAD in today's terms). That's a lot less than the current 2022 Unitrade catalogue value of $60 000 CAD! That means an appreciation in catalogue value of $34 303 CAD in just 13 years!
WHAT MAKES CANADA'S FIRST STAMP SO SPECIAL?
Once again, the fact that it was the first-ever! Its image is also worth noting. The three-penny beaver has, as its name suggests, a beaver as its central image. This was quite avant-garde for the time.
When countries first started issuing stamps, they usually put a person of significance on the stamp: the reigning monarch or an important political figure. Sometimes they just put the denomination of the stamp. You can see examples of this in the first stamps of the USA and Brazil below: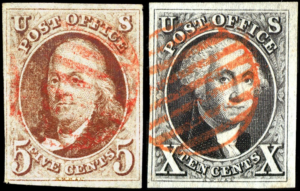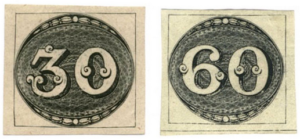 In 1851, Canada was still a British colony. It would only have been natural to feature Queen Victoria on the stamp's image. However, those involved in designing the stamp decided differently. One of the members of the team was Sir Sandford Fleming and he felt the beaver was a fitting symbol of the hard-working spirit of the first colonists. Of course, he still incorporated elements of the British monarchy out of respect. You can see a VR (Queen Victoria's initials) and her crown at the top of the stamp. Sir Fleming also used flowers in the design that have a special significance for Britain.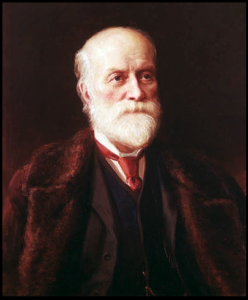 If you want even more information on Canada's First Stamp and why the beaver was chosen as our emblem, check out this article from The Stamp Echo's archives: Canada's Three-Pence Beaver Stamp-A Little Jewel!!!
You can also check out a description of the three-penny's design in this article. If you want to read and watch a really interesting article and video about Sir Sandford Fleming and how he designed Canada's first postage stamp, click here. Or you can view the below taken from the Canadian Museum of History's website.
WHAT MAKES ARPIN PHILATELY'S STAMPS SO SPECIAL?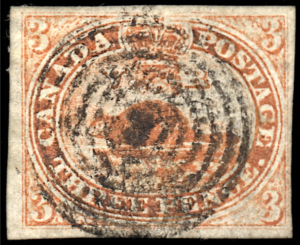 For one thing, we don't often get Canada's first postage stamp in stock. As of June 1st, we are proud to have THREE Canada #1. All three are in Very Fine condition with good margins. That in itself is extraordinary! Often, with older stamps, it's very difficult to get good margins, especially ones that don't cut into the design of the stamp. The stamps were printed on laid paper and the horizontal striping is very evident when you view the back of the stamp. The cancellations are a well-positioned sock-on-the-nose. A classic cancellation! Despite being cancelled, the stamps' images are still very visible. They are well-discounted from the catalogue value. One of them comes with a certification of authenticity from Vincent Graves Greene.
Click here to view Canada's first postage stamp in our web boutique.
So, who will be the new owner of a three-penny beaver? I know that whoever purchases Canada's first postage stamp will be proud to own a piece of history! Visit Arpin Philately soon if you don't want to miss out on these one of a time offers!