Let's get kids hooked on stamps! In this day and age there are a lot of entertainment options for kids–video games, sports, TV etc. How about collecting stamps? Not only is it fun, but they can learn a lot about art, animals, different cultures, history and a ton of other things. Collecting stamps can also teach a child patience, attention to detail, organizational skills, fine motor skills, and how to stay focused on one thing at a time. But it's up to us to show them how much fun it can be.
To help you introduce your kids to collecting stamps, Arpin Philately has put together this guide to creating a do-it-yourself, custom-made starter stamp kit for your little ones. Some prepackaged kits already exist online, but they always seem to be missing something. Following our guide in addition to accessing our online store (just click on the links below), will let you put together a high quality, custom-made kit for a mere $30-$40 CAD, plus applicable taxes and shipping. One popular kit on eBay which is fairly complete retails for $63 CAD plus $47 in shipping–a total of $110! Ouch!
Here's what you need:
Stockbook ($15)–until you know how serious your child will be about his new hobby, a hardcover stockbook is the most economical way to store stamps. Later on, your child can graduate to a stamp album like our Junior Canada album. The softcover booklets offered in most starter kits cannot keep stamps safe.
Tongs ($3.95)— this essential tool will get your child used to handling stamps properly from the very beginning. A bent spade tip might be the best choice for little hands.
Perforation gauge ($1.50)–help them learn how to detect differences in perforations right away.
Magnifier ($9.50)–this is essential for helping them to spot all the little details on their stamps. Our magnifier is user friendly for kids and high quality (it even comes with an integrated light). It could literally last years if properly stored. If you prefer, you could get a less expensive, basic magnifier at your local dollar store.
Stamps ($10)–we personally feel it best to start a child on collecting thematic packets (most online starter kits only offer US stamps). Thematic packets are colorful and come in a wide variety of topics on our website. With such varied price points, you can easily choose up to two different packets for around $10. Or, choose a single, larger packet for the same price. Here are some suggestions:
Flowers (100) $3.50
Cats and dogs (100) $4.50
Cars (100) $4.00
Dinosaurs (50) $3.50
or

Disney (50) $10
Sports (300) $11.75
Animals (200) $11.75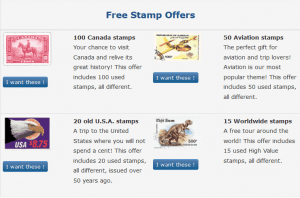 Approvals, sign up for our approval service. By doing so you will get a 5% discount on your order and an additional free stamp packet (choose from our 4 flavors). You are under no obligation to buy–send the approval back if you wish (at your own cost), but at least you got a discount! However, if your child remains a member, you will get mailings about every month (or your desired frequency) containing different stamps chosen by our experts to suit their collecting interests. Also, by remaining a member, you continue to benefit from the 5% discount on all online orders.
Once again, based on whether or not you purchase our magnifier and how many stamp packets you purchase, your DIY stamp kit will run you approximately $30-$40 CAD plus applicable taxes and shipping (including 5% discount). When you think about it, that's often less than a new video game or tablet!
Have fun putting together your stamp starter kit. We wish you and your little ones hours of fun!
Visit our new Kids Corner on the blog and you will also find a selection of articles explaining different aspects of stamps and stamp collecting in simple terms. Print the articles and you now have a free how-to guide for your child!