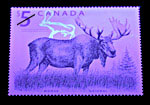 Nobody wants to find out that they have spent hard earned money on a fake stamp. In an effort to prevent counterfeiters from easily producing certain stamps, on December 19th, 2003, Canada Post issued a high-value definitive, the $5 Moose (Canada #1693), with certain security features.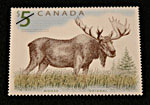 The stamp is a 4-colour lithograph, and 2-colour engraving of a moose in his natural habitat with a blue sky overhead. If you look closely however, you can see that the sky is actually made up of tiny hoof prints, and in the sky are two lines of miniscule text which read «moose» in Latin. Additionally, under ultraviolet light an image of a moose is revealed. This image represents a Mi'kmaq petroglyph, derived from an original in the Kejimkujik National Park.
Not just a simple definitive, these features definitely make the $5 Moose an original, especially since it is the first Canadian stamp to feature a fluorescent drawing, instead of just a bar tagging. What other security features does the future hold for postage stamps? Only time will tell.