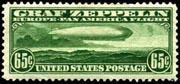 First of all, let's discuss aerophilately. This is an area of philately which focuses on the study of airmail stamps, in other words, stamps which were used in the transport of mail by air. There are many different facets of airmail. For example: balloon mail, zeppelin mail, rocket mail, fixed-wing aircraft mail. This article will concentrate on zeppelin mail.
Obviously, «zeppelin mail» was carried on zeppelins! These lighter-than-air German aircrafts were used for the first time to carry mail in 1908. Most zeppelins carried mail on every flight, and covers even received special postmarks which were actually applied on board the ship in its own little post office. Many countries eventually issued air mail stamps to be used specifically for the mail which was transported on the zeppelins. What made the zeppelins so famous were their successful trans-Atlantic flights. The Zeppelin Company even made a zeppelin for the United States, which was renamed the «Los Angeles». This prompted the issuing of Graf Zeppelin stamps by the US.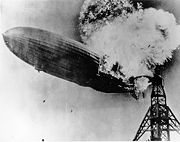 The model named «Graf Zeppelin», in honour of Count («Graf» in German) Ferdinand von Zeppelin, its designer and creator, saw many flights, and was eventually transformed into a museum. The most famous zeppelin, of course, is the ill-fated Hindenburg. An interesting piece of historical trivia: the Hindenburg was supposed to be filled with non-flammable helium, but because of a military embargo on helium by the US which made the gas rare, it was eventually filled with the usual flammable hydrogen. On May 6th, 1937, the Hindenburg burst into flames during its descent, fire completely consuming it in 34 seconds. Tragically, thirty-six people died.
Some zeppelins flew for a few years more, but were ultimately abandoned as a reliable method of air transportation. Their eventual disuse, and the fact that relatively small quantities of the stamps were issued at a time, makes zeppelin mail and stamps rare. This explains the charm they hold for collectors. In fact, some of the mail from the crash of the Hindenburg survived (called crash covers), and today is highly sought out.
Maybe zeppelin stamps will appeal to you!