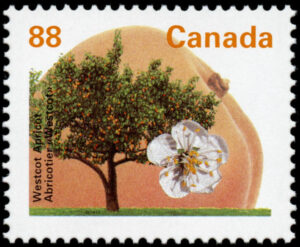 You read that right! Here at Arpin Philately we still have a few copies left of a special rare stamp! Discovered by us in 2018, we were bamboozled when we first detected it. And so were the experts! Keep reading to find out what we discovered and how you can share in the excitement.
A RARE STAMP THAT SHOULD NOT EXIST!
Imagine our surprise when we came across this variety while identifying a new lot of stamps. The stamp in question? Unitrade #1373, the Westcot Apricot. Canada Post issued this stamp in 1991 as part of the Fruit Tree Definitives. It was printed with the International Rate of the time: 88¢.
Canada Post printed the original #1373 on Peterborough Paper. The stamp featured fluorescent GT4 tagging. In other words, the tagging goes all around the four edges of the stamp.
ARPIN PHILATELY DISCOVERS A RARE AND UNIQUE STAMP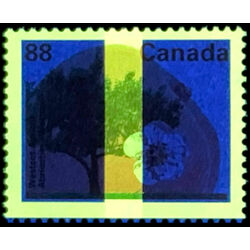 You can easily see fluorescent tagging with the naked eye since the tagged strip appears glossier than the rest of the stamp paper. But when we placed our stamps under ultraviolet light, we couldn't believe our eyes!
In addition to the GT4 tagging, our stamps also had a central vertical bar! NO SUCH STAMP HAD EVER BEEN FOUND! To this day, as far as we know, Arpin Philately is still the sole possessor of this rare stamp: #1373 GT3+4.
WHAT DO THE EXPERTS SAY?
Obviously, the first step when you think you've found a new variety is to go to other experts for their ideas. We contacted the most reliable source we could think of: the editor of the Unitrade specialized catalogue of Canadian stamps and the Corgi Times, D. Robin Harris FRPSC, OTB.
Here's what he had to say about our rare, one-of-a-kind stamp:
"This newly-reported variety (CBN printing on Peterborough Paper) is a combination of block tagging and 3-bar tagging. How could this happen? A trial printing?"—Corgi Times January-February 2018.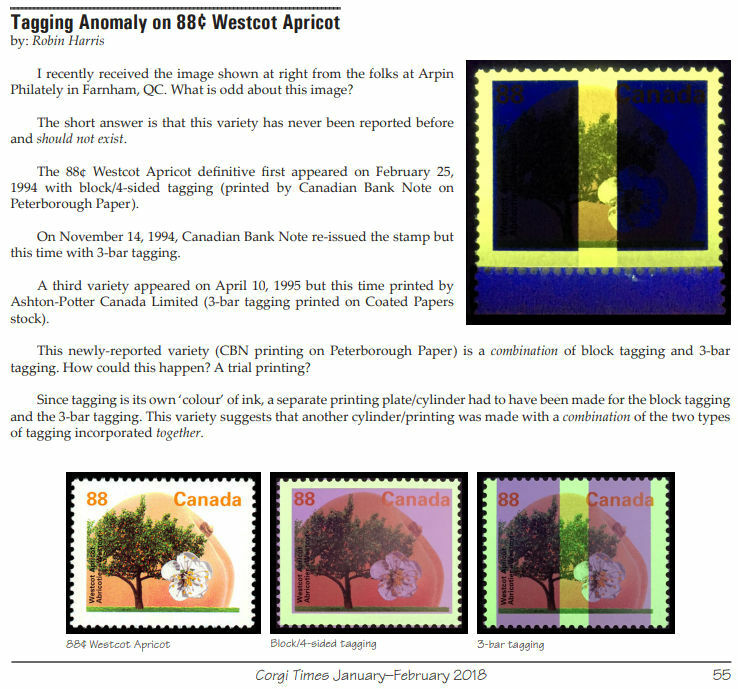 Needless to say, the Unitrade catalogue has since updated its pages to include a reference to our rare discovery.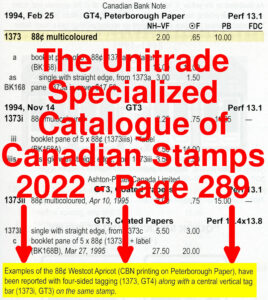 GET YOUR OWN SPECIMEN OF THIS RARE STAMP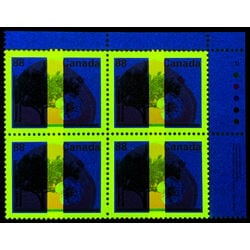 Arpin Philately still has some copies of the rare #1373 GT3+4. We even have it in plate block form. Don't wait to get your own copy of this rare stamp that no one knew existed! What does the future hold for this unique variety? After all, think of all the other unique stamp specimens which have shown up throughout the centuries only to become valuable classics: the Treskilling Yellow, Inverted Jenny, and British Guiana Magenta to name a few.
Don't miss out!