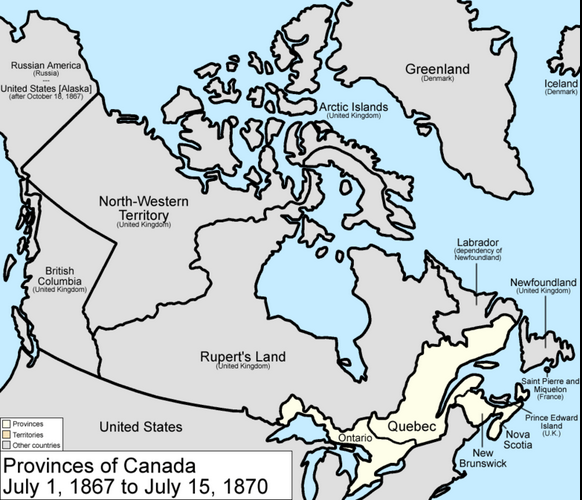 Why would you want to collect these particular stamps? Because stamps of Newfoundland are an important part of history. Do you know the history of Canada and of Confederacy? I promise that I won't be giving you a complicated history lesson! In a nutshell, this is how it goes: this land was colonized in turn by the French and the British. First, it was the Province of Canada Then it became the Dominion of Canada after Confederation in 1867. Did you know that Canada is still legally a Dominion? But the term is no longer used in our modern times.
A LITTLE BIT OF THEIR HISTORY

Initially, the Dominion of Canada was made up of 4 provinces: Québec, Ontario, New Brunswick, and Nova Scotia. Today, that number has increased to 10 provinces and 3 territories. Some of these provinces, like British Columbia and Prince Edward Island, issued their own stamps. When they joined the Dominion of Canada, then they used Canada stamps.
Newfoundland was the last province to join the Confederation on March 31, 1949. So, it has the distinction of having issued its own stamps as the Dominion of Newfoundland for almost 100 years, from 1857 to 1949. And, get this, you can still use these stamps for postage within Canada. Cool eh?!!
But don't!! Some of these stamps are very valuable and an important part of our history. You want to collect stamps of Newfoundland, NOT use them for postage.
NEWFOUNDLAND STAMPS ARE INTERESTING AND BEAUTIFUL
I think it's really interesting to go through the pages of the Unitrade Catalogue and examine the stamps of Newfoundland. They're really beautiful! It can be really fun to research the subject of many of these stamps. They depict wildlife, important people, local occupations, various landmarks, and historical events. And, of course, don't forget one of my favourite Newfoundland stamps: the Newfoundland dog (Unitrade #56 & 57).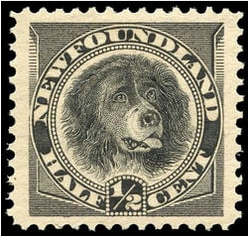 Take for example the "Discovery of Newfoundland" issue (Unitrade #61–74). These stamps feature mining, logging, and fishing. They also depict icebergs and other scenery.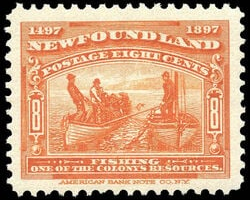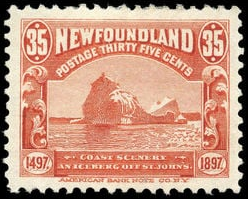 NEWFOUNDLAND STAMPS CAN BE VALUABLE
Some of the first issues of Newfoundland are worth quite a bit, especially in Mint condition. Or even in used condition like Newfoundland #3 pictured below.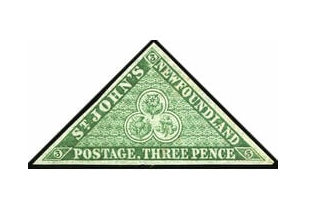 For example, at a 2014 Spinks Auction, the 1857 1 shilling scarlet vermilion in mint condition was apparently sold for $45, 000! I haven't been able to confirm that price with the auction house yet, although Stamps and Canada and Find Your Stamps Value both claim it to be true.
So think about adding some stamps of Newfoundland to your collection. These little beauties are fun and interesting. A lot of them can increase in value because they are quite rare.
Newfoundland continues to be a subject of many modern Canada stamps. Check out this article about the stamp commemorating Cupid's Landing, Newfoundland.
Visit our Newfoundland stamps section at Arpin Philately. Collect a part of history!!